Back To Blog
Moving into a new home is certainly a big step and there are many things to consider before making a decision to move. The first step that should be done is to replace all the current locks in your new home. When doing this, it is important to hire a qualified locksmith like us who can do the job well.
Choose the right kind of lock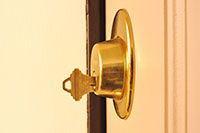 When replacing locks, it is important to choose the right type of lock. It is ideal to choose a restricted or patented locking system since they are legally protected which means that they cannot be copied without any proof of ownership. Moreover, the keys for this type of security system come in an unusual design as well as possessing unique mechanical features, which are tough to copy. When you opt for this system, extra copies of the keys cannot be made without your consent or knowledge. Moreover, when you change the lock, previous tenants or owners of the property will not have any access to your home.
With this system, the key can be deleted from the database of the locksmith in case the keys are stolen. In addition to this, the lock will be reconfigured and a new set of keys will be issued. This way, you can be assured that the lost or the stolen keys will not work on your home locks anymore.
Price versus value
Although this lock and key system comes at a higher price compared to the ordinary lock system, it is a great investment for the safety of your home, valuables, and family. As long as you have the official copies of the keys, there is no chance that any additional sets will be created and circulated. Moreover, with this type of security system, you can save money when it comes to replacement locks in cases where reconfiguration is needed.
You can purchase this lock and key system from a local store and the price will vary based on the level of security. When it comes to changing the security locks in your new home, our experts at locksmith Glendora, recommend that you choose your locks wisely. We can help.